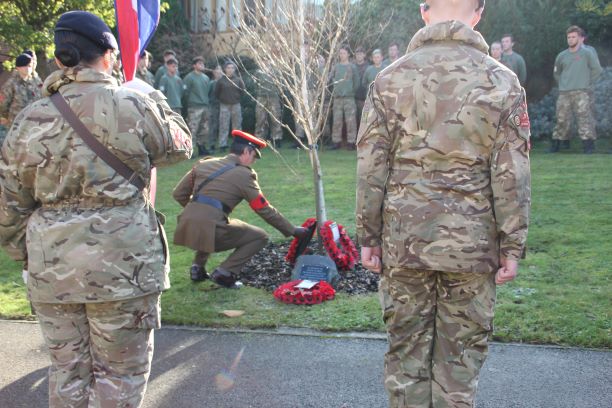 Over 100 Havant & South Downs College staff and students came together on Monday 11 November to pay their respects and remember those who gave their lives in service.
During the tribute, the Royal Marine Wreath was laid by Corporal Dean Gilbert, Royal Marines, 42 Commando, at the memorial to Royal Marine, Richard Hollington. Richard Hollington was a former South Downs College Public Services student who, in June 2010, became the 300th British Serviceman to die during the conflict in Afghanistan.
In remembrance of those service personnel who have given their lives in wars and conflicts, past and present, the College's Public and Uniformed Services students paraded through the campus to Richard's memorial, located at the heart of the College grounds.
Before the two-minute silence, two further wreaths were laid. The first represented the Tri-Services from Defence School of Policing and Guarding, Southwick Park and was laid by Major Dave Love, Deputy Commandant, Royal Military Police, Southwick Park. The second was the Royal British Legion wreath and was laid by Deputy Principal Richard Barlow.
Former Course Manager Helen Hill then read 'In Flanders Fields', followed by a reading of 'The Exhortation' by Public Service student Jo Hunter and Uniformed Service student Morgan Carruthers.
After the College paused to reflect on those who had fallen, Deputy Principal Richard Barlow presented the Richard Hollington Award jointly to Major Dave Love and student Lee Baigent.  The award is given annually to a member of staff, student or group of students who by their efforts have shown care and understanding for others.
Major Dave Love was chosen for the huge amount of support he has shown to the College over the last five years.  Not only for the time he dedicates to support our students at numerous residentials and events, he has also enabled our Public and Uniformed Services and Forensic Science students to use outstanding facilities at the DSPG and has supported the HSDC Combined Cadet Force by securing a Royal Military Police contingent for them.
Student Lee Baigent was chosen as he has shown tremendous enthusiasm and commitment to our Combined Cadet Force, working hard to perfect drill with both our cadets and public services students. He has shown incredible commitment in completing his Gold Duke of Edinburgh's Award on Exmoor. This is a great achievement in itself, but he also completed this immediately after being away for a week on his army cadet summer camp. He completed a significant industry placement last year with the British Army where he wrote a 4000-word document on the new fitness testing protocol for soldiers.  He regularly puts himself forward for responsibilities above and beyond the call of duty.
The parade ended with children from Little Faces Nursery placing poppies at Richard Hollington's memorial before Cadet Lee Baigent brought the parade to attention and dismissed the Public and Uniformed Services students.
Deputy Principal Richard Barlow said: "Each year the College is extremely proud that its remembrance ceremony provides a time to reflect and remember those, both military and civilian, who have fallen and made the ultimate sacrifice."
To have so many students and staff immaculately observing the 2 minutes silence is truly humbling and a testament to the strength of our college community.
Many staff and students have personal and family links to the armed forces, including students from our public and uniformed service courses whose parade today was truly outstanding.