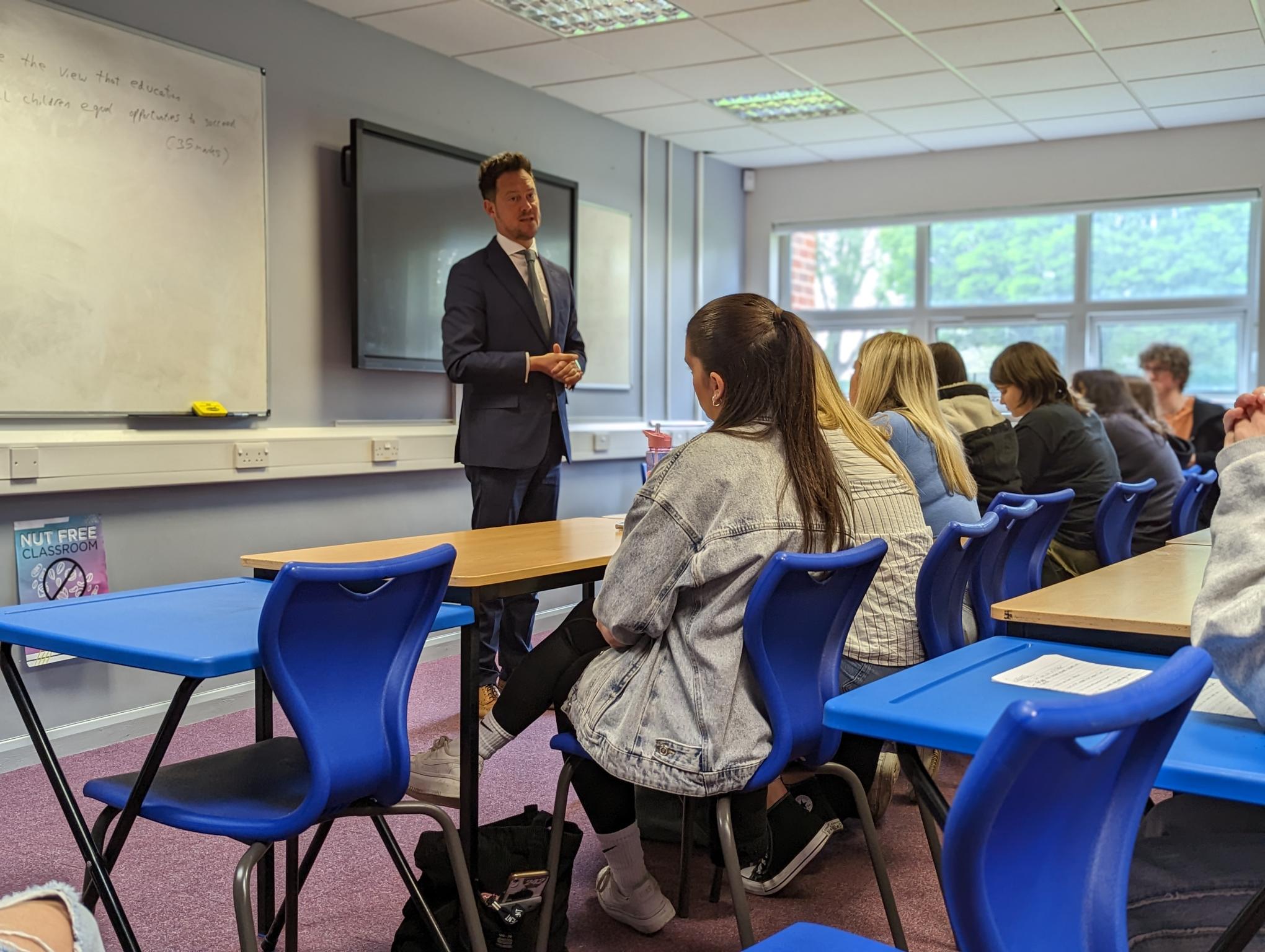 Students from Alton College and HSDC Havant were recently visited by Lord Kennedy of Southwark, Opposition Chief Whip of the House of Lords and Stephen Morgan, Labour MP for Portsmouth.
First up was Lord Kennedy of Southwark who greeted students at our Alton Campus. He delivered an in-depth talk on equality and the Lords, stages of legislation and the important work the Lords do to scrutinise legislations. 
Students were also given the opportunity to ask questions throughout on diverse topics such as the relevance of Bishops as Lords, how Lords are scrutinising the Public Order Bill, the new legislation on voter ID, the nature of our constitution and whether or not the Lords needs reform.
Stef Harvey, Teacher of History said:
"It was an absolute privilege to host Lord Kennedy of Southwark. I always say every day is a learning day and I learnt about the "Henry VII clause" so it was great to have learnt something myself!

I am proud to be educating students who asked such nuanced and developed questions and even prouder to be able to give them opportunities such as question time with a member of the Lords!"
This was followed by Labour MP Stephen Morgan, who visited our Havant Campus to meet with many enthusiastic students, in particular members of the Politics Society. 
Stephen conveyed his passion whilst giving students an overview of his journey into his current position alongside an in-depth look at his work. 
Students also prepared a list of questions to ask Stephen which included queries tailored around education and university fees. Students also questioned Stephen on the best way young people can engage in Politics which was extremely beneficial to all in attendance. 
Annabelle Connell, Politics A Level student added:
"It was really insightful to have a Labour Member of Parliament speak at the Havant Campus. It was great to speak with Stephen Morgan and it has made me excited to find out what the Labour Party have in store for the next election."
Katharine White, Politics A Level student said:
"I found Stephen's discussion really interesting. It resonated with me as I have always had an interest in Politics and hope to study the field at degree level in the future. I also hope to do a year in industry with my ultimate goal to work in Parliament therefore the visit gave me a real insight into the industry whilst also being extremely invaluable." 
The visits were arranged by History and Politics Lecturer Andros Xiourouppa as part of our 'Be Involved' student enrichment programme which gives students the opportunity to participate in a variety of extracurricular activities with the aim to develop knowledge and skills to benefit their futures.
For more information on our A Level Politics course, visit our course finder at hsdc.ac.uk.