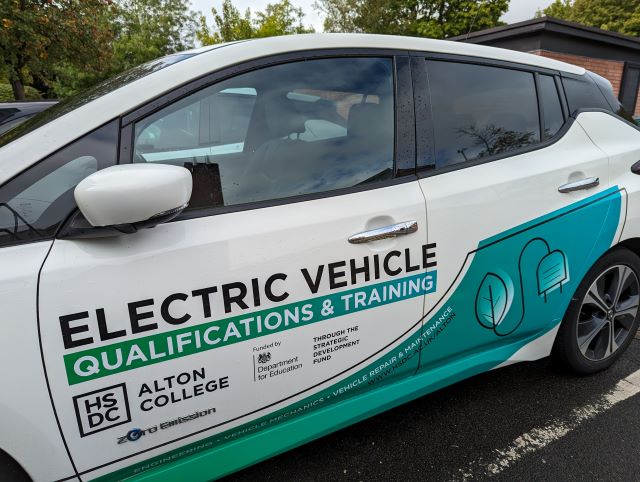 Alton College is expanding its offering as a result of successful government funding which will be used to respond to focal skill needs, including that of the emergency services.
The Strategic Development Fund (SDF), funded by the Department for Education (DfE) has presented Alton College with the opportunity to further develop its offering with a range of modernised equipment to support first-hand training thanks to two new electric vehicles and supporting kit.
The ultra-low carbon vehicles which were purchased on receipt of the funding alongside charge points, safety equipment, PicoScopes, and high-spec laptops for diagnostics, will be used to upskill many including electric vehicle owners as part of an introductory qualification.
In addition, the electric cars and equipment will also be used to upskill the emergency services, ensuring that first responders are able to make sure their electric vehicles are safe before attending an incident. As there is a different procedure for electric cars with high-voltage batteries, it is critical that sufficient high-quality training is put in place.
The college will also be home to a large bank of online resources which will be used to develop individuals such as those working at local garages to ensure they are upskilled in the maintenance and repair of electric vehicles. In addition, Alton College will also introduce a T Level in Maintenance, Installation, and Repair: Light and Electric Vehicles in September 2024 which will give students the opportunity to gain hands-on experience with the electric cars and equipment whilst setting them up for a prosperous future.
Assistant Principal, Vocational Curriculum Ashely Grute added:
"The Strategic Development Fund project is a great opportunity for Alton College to provide the latest green technology skills to support the upskilling and reskilling of local people in a key growth area in the region.

It is fantastic that Alton College will be helping local people secure high-skilled jobs and it will also help inspire young people in the area to pursue roles in this crucial sector."
Visit our course pages to find out more about Motor Vehicle Systems courses via our course finder.