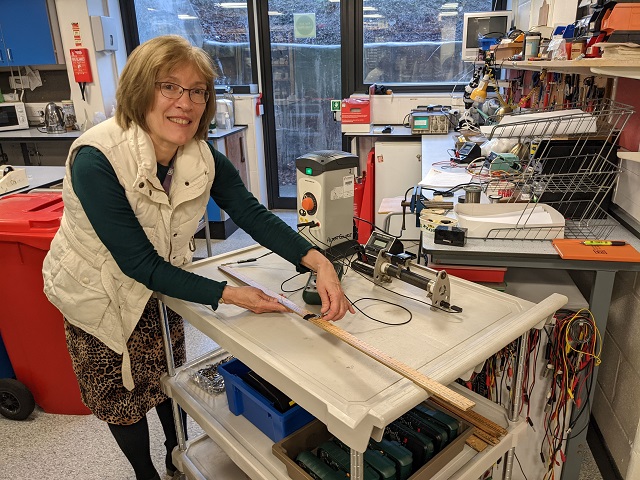 Science teachers from HSDC are joining scientists across the country to smash stereotypes for British Science Week.
Five female A Level lecturers who teach Biology, Chemistry or Physics have shared stories of their backgrounds, research and careers in an attempt to inspire others to pursue science.
British Science Week 2022 aims to celebrate the diversity of careers in science and the backgrounds of those who study and practice the subject.
Our teaching staff have joined in with this year's theme of Smashing Stereotypes by helping to create short profiles about their career journeys so far. 
Dr Maria Watson, Physics teacher
Maria, pictured above, completed a PhD on manufacturing solar cells which was sponsored by a large electronics company, then worked in industrial electronics research labs for 10 years afterwards. Maria said:
"My most exciting project was inventing a way to help 'save the ozone layer' by reducing the amount of ozone-harming solvents used when making printed circuit boards. 

It went commercial and made my company a lot of money, as well as helping the environment."
Maria went on to work for an engineering consultancy in Waterlooville which developed marine navigation systems. 
Her favourite memory from there was sailing the safety boat for a diver who was testing an underwater scooter that we had developed. Luckily, the underwater scooter navigation system worked fine and the safety boat wasn't required!
Finally, Maria worked for GE Aviation in Chandler's Ford, developing 'big data' algorithms for predicting when aircraft need maintenance using black box recorder data. This technology is used on wind turbines as well as helicopters, passenger aircraft and military aircraft. 
Maria said: 
"During this time, I volunteered as a STEM ambassador and started delivering workshops and talks to encourage schoolchildren, especially girls, to consider STEM careers. I loved it, which was why I left industry in 2018 to train as a science teacher."
Trish Wilson, Biology teacher
Trish undertook a Biology degree at the University of York, before working as a medical laboratory scientific officer in histopathology at Queen's Medical Centre Nottingham, processing samples and preparing slides for pathologists to analyse. 
She went on to work as a senior histology technician at the Ludwig Institute of Cancer Research, researching the use of immunocytochemical techniques to detect oestrogen, progesterone and vitamin D receptors in human breast cancer.
Trish said:
"During a career break whilst I had children, I took an Open University degree, studying maths and computing courses, and worked as a school computer technician. 

"Deciding that teaching A Level Biology would be far more interesting, I completed a PGCE at the University of Portsmouth, working as a college science technician between teaching posts."
Amy Gladwell, Biology teacher
Amy gained a BSc in Biology in 2018 before completing a Masters degree in Evolutionary Biology, both of which she studied at the University of Southampton.
Amy took on a year of research as part of her Masters, and this even took her to the Galapagos Islands to study the famous finches, alongside a big research project on bats.
A passion for animals and nature has been a theme throughout Amy's studies and career, which started from a young age. Amy said:
"I used to watch David Attenborough all the time when I was a child. When I started my GCSEs I realised I already knew a lot of the content! I was always interested in teaching, I liked to explain things when I was younger."
Amy undertook a PGCE in Secondary Education at the University of Southampton, and realised she had a passion for Further Education during a placement in a school with a sixth form.
She has now been teaching at HSDC Havant for two years, and loves encouraging students to achieve their goals and inspire them to be passionate about science.
Amy said:
"I think there's a massive stigma around being science minded to be a scientist. If you have a passion for it then you will become what you want to be. If you learn the content and you're passionate about it, you can do it.

"For me, it's about the diversity of science which people need to understand. There's so much to science, it's not just pouring chemicals into a jar. It's about harnessing nature to do what you want to do with it and learning to live with nature and change it depending on what the outcome is that you want."
Lesley Brewer, Head of Faculty for STEM & Social Sciences
After completing a degree in Geochemistry and then a PhD in Inorganic Fluorine Chemistry, Lesley carried out post-doctoral research in mineral exploration at Nottingham University.
Lesley then moved to the University of Surrey, where she worked with a team of physicists to investigate complex food systems. 
This led to a position as Head of Sensory at a research institute which worked within the international alcoholic beverage and wine markets. 
Lesley said:
"My team were responsible for assisting companies with specialised tasks such as evaluating flavour profiles, new product development, raw material sourcing, troubleshooting and taints analysis. 

"I also worked closely with Marketing teams to carry out product consumer testing and promotions. I gained a reputation as a specialist sensory analyst for alcoholic beverages, often judging at international beer competitions. 

"With my scientific background, I also managed work on hop chemistry and beer flavour stability. I project managed a worldwide investigation into the flavour stability of beers that was funded by major multinational brewers from around the globe."
After having a family, Lesley retrained as a teacher while working at Alton College. She has been at Alton for 15 years, and was appointed last year to Head of Faculty for STEM and Social Sciences A Level subjects at the Alton and Havant campuses.
Dr Libby Smith, Biology teacher and EPQ coordinator
Libby studied for an Applied Biology degree in London, spending her industrial year at the BP exploration site in Sunbury-on-Thames, working on the tissue culture of tomato plants.
She then went on to do a PhD at the University of Nottingham, investigating the genetics of a bacteria that injects DNA into plants in collaboration with the BP scientists.  
After this, Libby worked as a postdoctoral research scientist at AstraZeneca. She said: 
"I was working on a project to genetically engineer plants to make biodegradable plastic (polyhydroxybutyrate). 

"Whilst I was there, I was on the taste test panel for the first genetically engineered product to be sold in a British supermarket – tomato puree.

"Whilst working at AstraZeneca I enjoyed training the university students who came on placements and so decided to train to be a teacher, so I left to complete a PGCE at the University of Bath."
Find out more about the STEM subjects offered at HSDC through our course finder.